ELDERLY CARE OPTIONS
HOME CARE AGENCY
Home care is a great option for older adults who wish to remain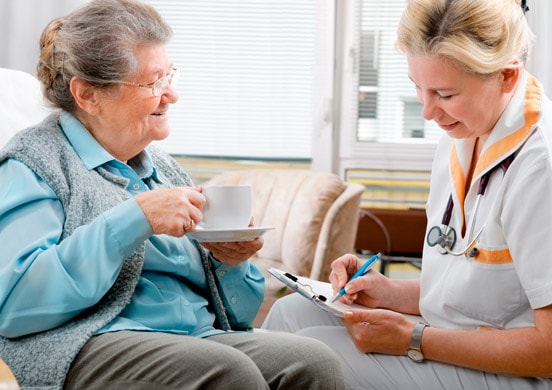 at home.  Hiring a home care agency specializing in elderly care
can keep you or a loved one safe, while providing in-home assistance with your daily routine.  Choosing a professional home care agency to provide assisted living, will give you the option of hiring a homemaker and companionand home care aide
If 24 hour elderly care is required, a live-in caregiver is an option. Hiring a quality home care agency will help preserve independence, provide emotional support from your caregiver, and keep the elderly adult where they most often prefer to be – home.
If you require in-home assistance, below is a link to a list of agencies providing homemakers and companions and home care aides
Home care agencies in CT:   //www.homehealthcareagencies.com/directory/ct/
ADULT DAY SERVICES
Adult day service centers provide a coordinated program of professional and compassionate services for adults in a community-based group setting.  Adult day centers generally operate during normal business hours, five days a week.  They provide social activities, transportation services, meals and snacks.  If you or a loved one is an elderly adult seeking companionship and mental stimulation in a group setting, an adult day service may be a good option.
ASSISTED LIVING FACILITY (ALF)
Assisted living housing is a long-term care option that provides personal care support services such as meals, medication management, bathing, grooming, and transportation.  This kind of assisted living facility provides caregivers in multiple disciplines, who oversee the facility.  The seniors all have their own kitchens and bathrooms.  Social common areas and planned recreational activities offer companionship with other older adults.  If you believe you or a loved one would like an independent apartment setting without the restrictions of a nursing home, this may be a good option.  Costs can vary from $3,000 – $10,000 a month.  If you are in Connecticut and believe this form of assisted living can benefit you or a loved one, below is a link to a list of Connecticut assisted living facilities.
https://www.caring.com/local/assisted-living-facilities-in-connecticut
NURSING HOMES
Nursing homes have physicians and nurses on site at all times.  This setting is usually reserved for elderly adults who do not need to be in a hospital, but are unable to care for themselves at home.  Most nursing homes have professional staff, which are able to provide medical care, as well as speech, physical, and occupational therapy.  While this is the most expensive care option, Medicare can sometimes cover the costs.  If you or a loved one are in Connecticut and have care concerns that prevent you from living at home, or are suffering from Alzheimer's or dementia and believe this kind of assisted living facility works best, below please find a link to a list of nursing homes in Connecticut:
PAYING FOR HOME CARE
Assisted living and elderly care can be expensive.  A quality home care agency can talk with you about your options in detail.  General caregiving options for in-home care include homemakers and companions and home care aides.  You can hire one of these home care professionals for respite care, hourly care, overnight care, or 24 hour live-in care.
If you require Connecticut in-home assistance, you may be eligible for coverage through your insurance.  Medicaid is a state program, which sometime pays for home care.  It is generally for people whose income is under $26,000 a year.  Below is a link where you can learn more information about Connecticut's Medicaid program:
//www.ct.gov/dss/cwp/view.asp?a=2353&q=305218
Medicare is a federal program that sometimes pays for home care.  If you are a senior, require home care, and have Medicare, you may be eligible for home care at no cost to you.  Medicare pays for home care only if certain conditions are met. To obtain more information, below is a helpful booklet provided by Medicare:
https://www.medicare.gov/Pubs/pdf/10969-Medicare-and-Home-Health-Care.pdf
You can also obtain home care if you are a United States Veteran through the VA program, or if your long-term insurance plan covers home care services.  To get more information please contact the VA or your long-term insurance plan directly.
TALKING TO YOUR LOVED ONE ABOUT HOME CARE
If you believe it's time to discuss assisted living options with your parent or loved one, and believe home care is your best route, here are a few commonly asked questions and tips:
When should I have the talk?
A good time to gather facts and begin understanding your loved one's wishes is age 65.  While your parent or loved one may still be independent, planning for the future during this time is always a great step.  Speaking before your loved one has been diagnosed with a medical condition, or is showing signs of mental decline, significantly reduces stress and provides peace of mind for the future.  If your loved one has been diagnosed with a medical condition, or you have begun to notice signs of mental decline, speak with them as soon as possible to understand their wishes and provide reassurance.
Before speaking to your loved one, have a plan.
Before speaking with your loved one, make sure the subject was discussed with other family members and decision makers.  Being on the same page with siblings, spouses, and other close family reduces the risk of complications and keeps your loved one sheltered from doubts.  You may want to speak with a professional home care agency in advance of your conversation to understand caregiver and financial options.  Approach the subject together and present a unified front.
HOW TO START THE CONVERSATION?
Choosing the right time is essential.  It's always best to start a conversation early on, before your loved one has experienced a serious condition or mental decline.  Many seniors are calmer and more energetic in the mornings – this is the perfect time to start the conversation.  Ease into the conversation and make sure you have everyone's full attention.  Try to turn off cell phones, radios, and television sets.  Come from a place of compassion and be gentle.
REASSURING YOUR LOVED ONE.
Talk about your concerns for their care, safety, and well-being.  Try to avoid discussing specifically what is wrong with your loved one.  Remind them of their self worth, that you support their independence, and discuss a balanced approach to their well-being.  Reassure them about professional home care adding to their lives and that everyone wants to make sure that dietary, physical and mental care needs are met every day.  Start slow and remember that a full-time home care provider is not always necessary.  Stay positive!  Reassure them that they will be fully involved in the decision making process and have full control – they can even interview their own caregiver.
INDEPENDENCE AS MOTIVATION.
A qualified professional home care agency is in place to make the senior more independent. With the help of a professional caregiver, your loved one will be able to spend more time doing things they enjoy: being with friends and family, doing recreational activities, and enjoying hobbies.  A caregiver provides companionship, while taking care of daily chores and routines, allowing the senior to receive the necessary help needed to provide better long-term care outcomes.